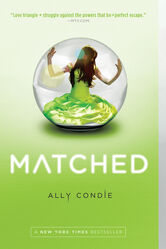 Spoiler warning!
This article contains plot details about an upcoming book.
Matched is the first book in the Matched trilogy by Ally Condie. It set in a future in which the government controls everything from work, to who you marry.
Inspirations and publishing history
The idea for Matched came in 2008 when Condie's husband asked her, "What if someone wrote the perfect algorithm for lining people up, and the government used it to decide who you married, when you married, etc.?". Condie was also inspired by a time when she chaperoned a high school prom and other experiences such as falling in love and becoming a parent. 
Overview
Seventeen year-old Cassia lives in a futuristic, dystopian society where the citizens' lives are strictly controlled by the government. At the age of seventeen, citizens undergo a process known as "matching"- becoming paired up with another boy/girl selected by the authorities. She ends up being matched with her best friend, Xander Carrow, and is at first excited about their future together. However, when she's at home viewing her micro card on the port, something flashes and a familiar face pops up on the screen; Ky Markham, another friend of Cassia's. At first she is confused because she was matched with Xander, but then things are straightened out with her official. She soon starts to fall in love with Ky during their summer leisure: hiking.
Summary
Spoiler Alert
At a matching banquet in a dystopian future, Cassia Reyes is matched with her best friend Xander Carrow who lives in her neighborhood. She is given a microchip which will give her more information about her match, but when she looks into it, she sees the face of Ky Markham appear on the screen. Later, an official comes by to switch the microchips, and Cassia is told that it must have been a mistake because Ky is an Abberation and cannot get matched with anyone.

Later, Cassia goes to visit her grandfather and they reminisce about her grandmother. Cassia also mentions that she has signed up for recreational activity at the Hill, which brings back more sad memories for her grandfather. A few days later, Cassia's grandfather is supposed to have his Final Banquet, which is his final meal. Before he is set to die, her grandfather speaks to each member of the family separately. Cassia, her parents, and her little brother Bram each give him a present for his Final Banquet and, when it is her turn, Cassia's grandfather reveals that her compact, an artifact from her grandmother, contains a forbidden scrap of paper that holds two old poems by Dylan Thomas and Lord Alfred Tennyson.

While hiking up the hill, Cassia takes the opportunity to read the poetry and to spend some time with Ky. While she ends up destroying the paper in order to avoid getting in trouble, she keeps getting closer to Ky, especially when he starts to teach her how to write. Cassia's feelings for him grow when he starts sharing bits of his past in the Outer Provinces with her. At one point, he even reveals that he carries an artifact, an old compass from his parents. When Officials come to collect all artifacts, Xander offers to hide Cassia's compact, but she chooses to save Ky's instead and this brings them closer together.

Along with Cassia, her parents end up getting in trouble with the Officials as well. Her father "loses" the sample of her grandfather's DNA, which is an infraction, but it turns out he threw it out on purpose due to a request from his father. Her mother, on the other hand, works for the ecological team and gets sent to the Outer Provinces to examine fields that people have been growing illegally. It turns out that growing plants that are edible are signs of a rebellion about to start, and, while Cassia's mother realized this, she did not want to report it. In order to protect her family, she ends up reporting the truth.

Throughout the summer, Cassia and Ky grow closer together and even end up admitting that they love each other. One day, Ky brings Cassia a poem and reveals that there are many illegal documents like the poem that one can get from the Museum.

Before graduating, everyone must get assigned a position in society. Cassia is a top sorter for her age group and officials choose to test her by making her sort the food disposal workers which is the group Ky works in. Although he tries hard to not be noticed by keeping his scores in school and his work average, Cassia chooses to put him in the group with the more efficient workers. She does this because an official tells her that the less efficient ones are given less food and their life expectancies are usually lower.

Later, Cassia decides to reveal the truth to Xander about Ky, but he becomes upset and walks away from her. Not soon after, Ky is taken away by Officials because he and the other better workers are being sent to the Outer Provinces to fight. When Ky is taken, the Markhams cause a ruckus which bring the rest of their neighbors out of their home. Cassia tries to give her last goodbyes and is able to slip the scrap of her Banquet dress into his hands before he boards the train. In return, he gives her a final note that she decides to read later. When the Markhams reveal the truth to their neighbors, the Officials quickly gag and arrest them and take them away. An Official then tells the crowd to take their red tablets after giving their compacts to the officials. Instead of taking the tablet, Cassia discretely drops it to the ground and crushes it with her foot. The red tablet wipes the memory of the last 12 hours from everyone's minds except for Cassia.

After returning home, the Reyes receive a message that they are being relocated to the Farmlands. Cassia's mother believes that it is because she saw the rogue crops, and the officials must believe it is too dangerous to leave her in a position of power. Cassia goes to City Hall later, but changes her destination to the Museum. When she leaves the Museum, she sees that the Official who threatened her and Ky is waiting for her outside.

They both know that Cassia did not take the red tablet, so she speaks first and asks that they bring Ky back. It turns out that the plan was for Cassia to sort him into the higher group, and she had played into their hands perfectly. The Official then goes on to reveal that Matching Cassia and Ky was just another experiment. Ky was deliberately placed into the Matching pool to gather additional data, but Aberrations are so rarely Matched that they allowed all of the events with Cassia and Ky to unfold. While Xander knew nothing, the Officials had told Ky and pretended to warn him.

The Officials watched nearly every interaction between the two except for their moments on the hill and the kisses that they shared. For this reason, the Official is curious enough to know that she offers Cassia a work position in the city to avoid leaving for the Farmlands with the rest of her family. Even knowing that she has a chance to stay, Cassia decides to not betray Ky and she also learns that the Official does not know who exactly put Ky in the Matching pool.

When Cassia returns home, Xander is waiting for her. He reveals that both he and Ky are immune to the red tablets and he remembers every detail of what happened that morning. Xander explains that, a while back, he had seen Ky holding his artifact, the compass. To keep the secret, he dared Ky to get two red tablets, but he did not realize that the other boy would steal them from his parents. Xander went to Ky's house the day after where Ky asked that they start over by taking the red tablets, and that is when Xander realized they were both immune.

After revealing this, Xander mentions that he has a present for Cassia, and he gives her a bag full of mementos and blue pills because he knows that she is going to try and look for Ky. Besides that morning, Xander reveals that there was only one other time the Officials made them take the red tablet, but he will not reveal to Cassia what happened that day. After a final hug, the two part so Xander can go home and Cassia can leave with her family.

While on the air train, Cassia talks with her parents and it seems like the two have deduced that something serious has happened. They realize that there is a connection between the gap in their memory, the Markhams' disappearance, and their move to the Farmlands. Cassia's father even says that he knows she is in love with Ky and wants to go look for him. At this moment, Cassia knows that her family really loves and supports her.

Before Matched ends, Cassia reveals that she still practices writing and she thinks about Ky's final note everyday that told her that he loved her. Although she has been moved, Cassia will never stop looking for Ky and will never forget what happened that summer.
Trivia
The book cover is green, which represents the green pill.
Citizens receive a green pill at 13, being the 2nd pill behind the blue.
Cassia also wears a green dress at her match banquet.
Awards and Recognitions
No. 1 New York Times Bestseller
Chosen as one of YALSA'S 2011 Teens' Top Ten
Publishers Weekly's Best Children's Books of 2010
No. 1 Pick on the Winter 2010/2011 Kid's Indie Next List
YALSA 2011 Best Fiction for Young Readers
YALSA 2011 Quick Picks for Reluctant Readers
Amazon Best Books of the Month, December 2010
Winner of the 2010 Whitney Award for Best Youth Fiction: Speculative
Community content is available under
CC-BY-SA
unless otherwise noted.