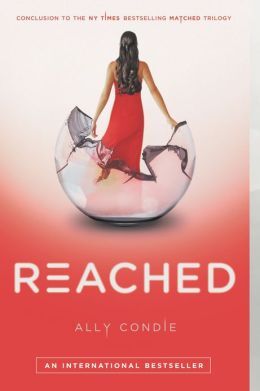 Spoiler warning!
This article contains plot details about an upcoming book.
Reached is the third and final book in the Matched Trilogy. It was released on November 13, 2012. This book is red and will therefore focus on the Red Pill.
Plot
Cassia faces the ultimate choices in the long-anticipated conclusion to the New York Times bestselling Matched Trilogy.
After leaving Society and desperately searching for the Rising—and each other—Cassia and Ky have found what they were looking for, but at the cost of losing each other yet again: Cassia has been assigned to work for the Rising from within Society, while Ky has been stationed outside its borders. But nothing is as predicted, and all too soon the veil lifts and things shift once again.
In this gripping conclusion to the #1 New York Times bestselling Matched Trilogy, Cassia will reconcile the difficulties of challenging a life too confining, seeking a freedom she never dreamed possible, and honoring a love she cannot live without.
Trivia
The cover color of this book is red, which represents the red pill.
Of the pills that everyone receives, the red pill is the third pill, and this book is the third in the trilogy.
You can only take the red pill when an official orders you to. This being shown on the cover represents Cassia no longer obeying the orders of the Society.
Community content is available under
CC-BY-SA
unless otherwise noted.